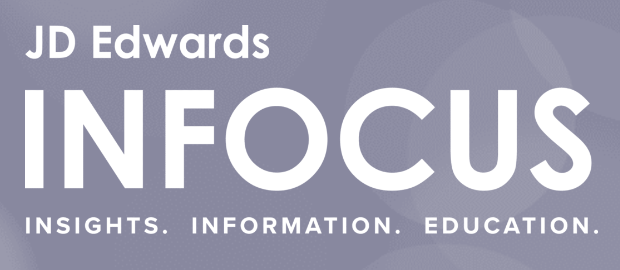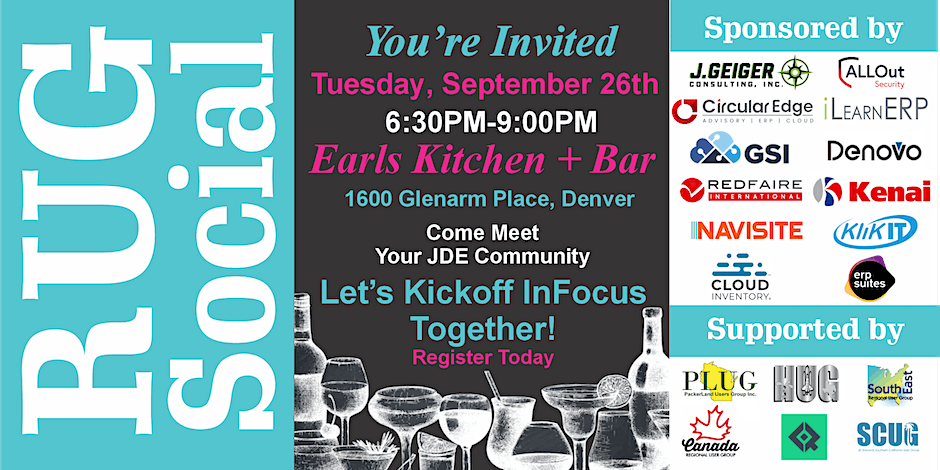 Visit Denovo at INFOCUS 23 at Booth #404
September 27th - 29th
Sheraton Denver Downtown
Join us for INFOCUS 23!
Join us in person this September as the JD Edwards community gathers once again at the Denver Sheraton for insights, updates and education.
JD Edwards INFOCUS brings together IT leaders and business users with JD Edwards experts, industry innovators, technology leaders and Oracle Product teams for insights, education and information. Get ready to dig deep into hot topics like Release 23, Orchestrator, No code/low code, JD Edwards on OCI, Automation, UX One, Personalization/Extensibility and more!
At INFOCUS, JD Edwards users of all levels can dig into new releases, dive deep into practical learning, get new ideas from best practices and hone their JD Edwards skills during three jam-packed days of education and networking. Attendees can chat with with the experts, connect with and learn from other users and meet solution providers.
Join us at the InFocus 2023 RUG Social!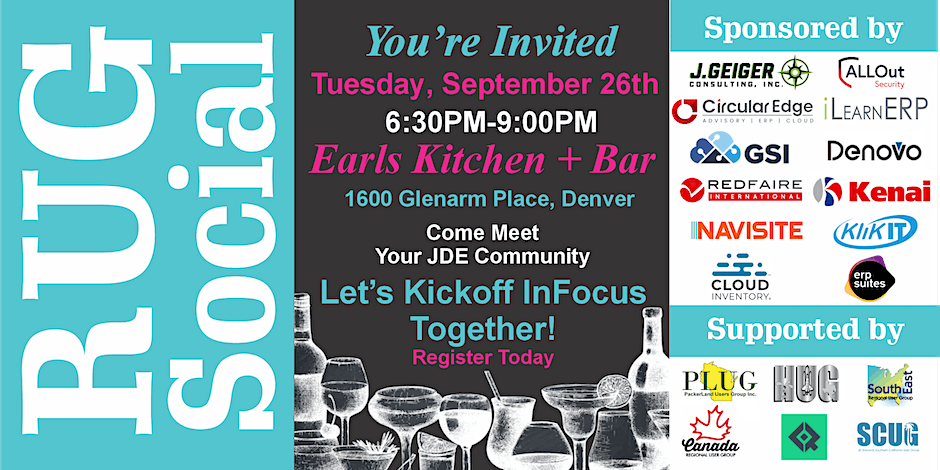 WHO:

RUG Social is for all User Groups. All customers attending InFocus are welcome to attend and join your Regional User Group leaders and members.

WHEN

: Tuesday, September 26th · 6:30 - 9:30 pm MDT

WHERE

: Earls Kitchen + Bar, 1600 Glenarm Place #140, Denver, CO 80202
Join the Denovo Sessions
Denovo is hosting some amazing sessions at this year's event, as well as a dedicated booth at space 404. Below are brief descriptions of our sessions.
You won't want to miss them!
Fond du Lac Case Study: The Best of Both Worlds with Hybrid Cloud & JDE
Customer Company Name: Fond du Lac Reservation
Speaker : Dean Matvey
The advancement of technology is becoming as inevitable as death and taxes. Aging infrastructure and systems can often leave organizations stuck in the mud as their competition moves forward. As a result, most Oracle JDE customers are all faced with, and at least considering, the move to cloud applications. When, how, what applications, and whether they should be making the move to cloud applications at all, are top of mind. Many customers have adopted a functional hybrid approach. One of the most common of these functional areas has been in Human Capital Management (HCM). In this session, we will provide a comparative analysis between Oracle HCM Cloud and JDE HCM solutions.
Using Orchestrations to Reduce JDE Development Footprint & Customizations
Customer Company Name: Quality Edge
Speaker : Josiah Becker
Quality Edge (QE) is committed to providing innovative soffit, siding, fascia, trim coil and other products for exterior designs that are beautifully inspirational and built to withstand the elements. QE used a third-party rating and routing application integrated to JDE that was no longer supported, so manual work-arounds were developed. This session will cover how JDE Orchestrations were implemented to replace the application and provide better results at lower cost.
Using Orchestrations for Business Process Improvement
Customer Company Name: Spirax Sarco
Speaker : Andy Lopez
Steam delivers safe, sustainable, efficient energy and is used in oil refining, beer making, & pharmaceutical/life sciences companies. Spirax Sarco helps their customers face energy challenges by cutting emissions & waste, boosting productivity and reliability, while reducing costs.
Spirax Sarco wanted major process improvements within JDE Contract Billing and Project Costing for their Field Services business. In this session you'll see how JDE Orchestrations were used to integrate data from multiple JDE modules, create forms, and enable process transactions to be conducted more efficiently
Loving Life with JDE on OCI
Customer Company Name: Dollar Shave Club
Speaker : Paul Cioni CTO, EVP Operations
Dollar Shave Club (DSC) is well known for their products and unique selling proposition to the market. They are a well-established market leader and have a support team and strategy that supports their market goals. The IT team made the decision to move JDE applications to a managed cloud services solution through Denovo to Oracle Cloud Infrastructure (OCI). In this session, DSC will share the reasons for their decision, what the project migration looked like, successes, and lessons learned from the run & maintain aspect of running JDE on OCI.
Activating Update Easy Mode: Real-World Examples Demonstrating the Power of Application Lifecycle Management
Speaker : Susan Szymanski - VP & Oracle Practice Leader, Don Landrum - EVP, Sales
JDE Updates. They strike fear into the hearts of even the most seasoned of users. But they don't have to! See how Honda Logistics and others have made update worries a thing of the past using the power of Application Lifecycle Management. In this session, we will cover:
Review of the Continuous Adoption upgrade model
Preparation and Prerequisites
Different approaches for Continuous Adoption
Actual Customer Case Studies
Business Drivers

Timeline

Impact to Business
Register for InFocus Today!
Don't miss this amazing experience!