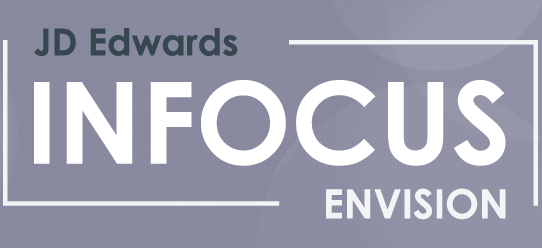 Thank You for Joining Denovo at INFOCUS Envision!
April 12 - April 15, 2021
What is INFOCUS Envision?
Plan ahead: roadmaps, product updates, enhancements, cloud adoption and more.
Hear the latest new product announcements and innovations directly from the Oracle product and strategy teams, including:
The tremendous cumulative value that 9.2 can provide to your organization
How customers are transforming their business with the JDE Digital platform
New user experiences JD Edwards supports such as chatbots, mobile, notification and UX One
Cloud options for JD Edwards customers
The latest innovations in system automation
Opportunities for eliminating customizations
See What Denovo Has in Store
Denovo will be hosting several sessions at INFOCUS Envision this year, as well as a dedicated booth space. Below are brief descriptions of our sessions and links to register for each.
A Comprehensive JDE Disaster Recovery Solution, Examining the DNA to Success
Speaker: Richard Dolewski - GM IBM Power, MDR, Denovo
Is your JD Edwards imperative to business success? Can you guarantee a successful recovery of your JD Edwards and complementary systems if a disaster occurs? Learn how Carolina Biological Supply examined their risk profile, aligned with the business and demonstrated their Disaster Recovery readiness. This case study examines the journey from budget, to Disaster Recovery preparedness and fail-over testing for JD Edwards from start to finish. Learn from the IT Director and a Disaster Recovery SME to evaluate where your company is, what to look for, and understand how to develop your own strategy.
How Hines Interest Moved to the Cloud Their Way
Speakers: Mike Hernandez - IT Infrastructure Manager, Hines
Don Landrum - Executive Vice President, Sales, Denovo

Like most companies, Hines' IT infrastructure substantially grew and became more complex as the business demands evolved. As this occurred it became apparent that the Hines IT infrastructure team was spending a greater amount of time on low value add tasks which was limiting the time they had to focus on Hine's key business initiatives. Based on these factors and an upcoming hardware refresh Hines decided to evaluate moving to the Cloud and engaging a partner to support the daily operational tasks.

In this session we will explore the process Hines went through in evaluating solutions, lessons learned from the project, how Denovo and Hines executed the migration which concluded with Hines closing their data center, and the value this has brought to Hines.


Stay Current on JDE with Application Life Cycle Management
Speaker: Susan Szymanski - VP/Senior SA, Denovo

The ERP upgrade cycle is extremely disruptive. Every three to five years you need to invest in a substantial project to stay current. Join Denovo and some of our customers to explore the benefits of keeping your JD Edwards application consistently current while leveraging a service model that simplifies the process. In this session we will discuss the process Denovo leverages to ensure minimal disruption to your business, while enabling you to fully leverage the latest features of your ERP application. Additionally, you will have the opportunity to hear from our customer panel on the benefits they are achieving through ALM. The key outcomes of this session are as follows: - How Application Lifecycle Management helps to mitigate security risks - How to turn unpredictable capital expenses into predictable operating expenses - The efficiencies gained through an outsourced service model.
Top 10 Tips and Tricks for JDE
You won't want to miss this top 10 list on how to maximize your JD Edwards investment!


Fixed Assets FAST
See how Denovo was able to help the Dairy Farmers of America handle a very pressing FA issue with ease using JDE Fixed Assets, and how it can help you too!
Lessee Accounting Demystified
Join us as we cover all things Lessee Accounting, including: lease accounting review, configuration, conversion and daily and periodic processing.
Lessee Accounting Demo
Join us for a hands-on demonstration of the JD Edwards Lessee Accounting functionality, and how to make it work for you!